Logistics Hub to U.S. Markets
One of the key advantages of doing business in Summit County is our key proximity to many major markets within the U.S. and Canada. Summit County was once a key stop along the Ohio and Erie Canal, making it a commercial center in the 1800s. In the first half of the 20th century, Roadway Express was founded in the City of Akron, while the Goodyear Airdock was used to build some of the nation's first and largest airships. While the means for businesses to transport goods and people from place to place have changed, Summit County's central position within the Ohio, Midwest and U.S. economy is the same today as it was over 100 years ago.
Proximity to U.S. and Canadian Markets
We are located within an eight-hour drive of half of the U.S. population and half of the U.S. buying power. Additionally, Summit County is located within an eight-hour drive of two-thirds of the Canadian economic base. Markets within a 500 miles radius of Summit County include New York, Washington D.C., Chicago and Nashville. Additionally, we are centrally located between Detroit, Cleveland, Pittsburgh and Columbus.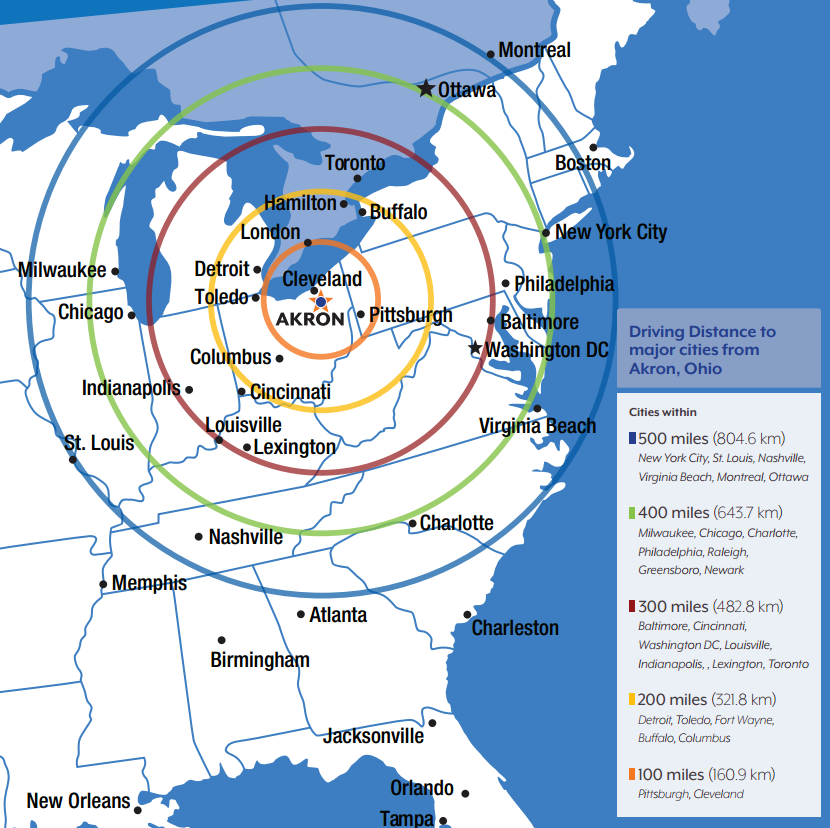 As a result of our proximity to these key U.S. and Canadian markets, Summit County is a leader in the logistics, transportation and distributions industries, is a key supplier to the American automotive industry, and is a driver in advanced manufacturing that plays a critical role in several established and emerging industries.
Several Access Points to U.S. Interstate System
Summit County is crisscrossed by Interstates
I-80
,
1-76
,
I-77
,
I-271
,
I-277
, and
I-480
which serve as major trucking routes within the Eastern U.S. It is also served by
U.S. 224
and
Ohio SR8
. As a result, several trucking and logistics businesses call Summit County home, including FedEx Custom Critical and JRayl Transport, along with YRC Freight maintaining a significant presence within the County. Additionally, the County is served by several rail lines that conveniently and efficiently transport freight and materials to and from businesses within the County.
Quality and Abundant Air Transportation
Summit County is also served by the Akron-Canton Airport in the City of Green, the Akron Executive Airport in the City of Akron and the Cleveland Hopkins International Airport in adjacent Cuyahoga County. These airports provide a combination of regional, national and international service for both passenger and freight needs to companies within Summit County and doing business with those in Summit County. Additionally, both the Akron-Canton Airport and Akron Executive Airport have strategically targeted areas surrounding their facilities for development, particularly for logistics and distribution companies and companies exporting from and importing into the U.S. The CAK International Business Park consists of three completed phases, totaling 306 acres, and offering businesses the benefits of being located in a Foreign Trade Zone.

1600 Triplett Blvd
Akron, OH 44306
5400 Lauby Rd
North Canton, OH 44720
5300 Riverside Dr
Cleveland, OH 44135
Railroads Crisscross the County
Rail access throughout Summit County and the Port of Cleveland allow for easy distribution of materials and products.

Water Port on Lake Erie
Lake Erie, located only 30 minutes from Summit County, provides virtually unlimited fresh water, as well as ports delivering coal, sand, salt, slag, cement and petroleum products to local industry. The Port is home to:
5-acre Cleveland Bulk Terminal with automated ship loader system that transfers 5,200 tons of iron ore per hour. CBT has Class 1 railroad and the capacity for 1,000-foot vessels.

80-acre general cargo operation with full seaway depth of 27' maintained at all times. Facility has 3 mobile cranes with 60-ton capacity each; one stationary crane with 150-ton capacity; two Class 1 railroads; substantial lay-down areas, and inside storage capacity.
1100 West 9th Street Suite 300
Cleveland, OH 44113
Phone: 216-241-8004